Crabber Outreach & Derelict Gear Removal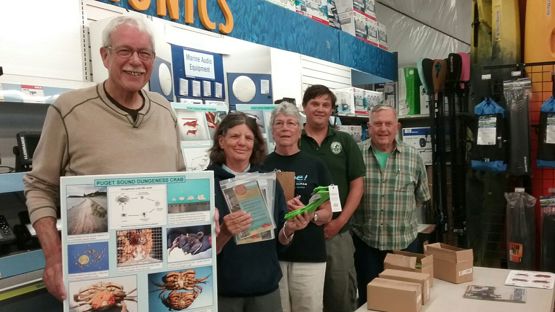 More than 12,000 crab pots are lost and become derelict every year in Washington's Salish Sea, killing over 177,000 harvestable crab each year. Jefferson MRC has teamed up with the Northwest Straits Marine Conservation Initiative to educate local recreational crabbers about best practices to "Catch More Crab" and avoid losing crab pots. In 2016 the Northwest Strait Foundation convened a regional stakeholder advisory committee that included MRC representatives, scientists and agency representatives to develop a plan for reducing lost crab pots in Puget Sound. In 2017, the Foundation received funding for a Derelict Crab Pot Removal and Prevention Project focused on Port Townsend and Dungeness Bay. Read more about that project here: https://nwstraitsfoundation.org/project/derelict-crab-pot-removal-prevention-project/   
Jefferson MRC and other MRCs promote best harvesting practices in annual Catch More Crab campaigns. We encourage crabbers to correctly rig their crab pots so the pots are not lost (and crabbers catch more crab). Our goal is fewer lost crab pots in Puget Sound and for everyone to have a successful day on the water. In the summers of 2017-19 the MRC provided educational materials at local boat launches, distributed materials to retail stores selling crab licenses and gear, and held two workshops each year to teach participants about setting up the pots, harvesting tricks-of-the-trade and regulations (of course). In 2020, the Foundation is offering an on-line version of those workshops.
Recommended On-line Videos
Northwest Straits Foundation: Tips and Tricks to Catch More Crab. 
WDFW (WA Dept of Fish and Wildlife): The Recreational Crab Fishery in Puget Sound, Washington. This video showcases the recreational Dungeness Crab fishery in Puget Sound, Washington. Highlights include "Gear 101," "Crabbing with Kids," and "Regulations and Management." The determination of crab size, sex, and shell condition are discussed.
WDFW (WA Dept of Fish and Wildlife): WDFW biologists monitor crab in Puget Sound Take a video ride along with WDFW biologists as they explain their work to monitor crab populations in areas of Puget Sound, including test fishing to monitor crab abundance. Staff also provide initial insights into trends for Dungeness crabs populations in Puget Sound for 2020.
REMOVING LOST POTS
In 2019, the Northwest Straits Foundation and a marine services consultant surveyed and collected derelict pots in Port Townsend and Dungeness Bays. They found over 254 pots in Port Townsend Bay alone. The Port Townsend Leader covered the story, informing a much wider audience about the problem of lost pots and what is being done about it. Read more about the project on the Foundation's website.  A similar derelict pot recovery effort was done in 2014, when over 300 derelict pots were collected. 254 pots in one small bay over 5 years is a lot of lost pots! We hope this educational effort will reduce that number.